This guide will help you locate information on researching controversial issues for writing college-level arugumentative or persuasive essays or speeches.
Your purpose is to convince your reader or listener of your point of view. You may want them to change their minds on particular subject or convince them to take a course of action or accept your perspective.
In a successful essay or speech, you:
define the issue

take a clear position

make a convincing argument

acknowledge opposing views
Need help with your paper?
Check out these resources to help you throughout your writing process!
The writing center is a free tutoring service offered to JTCC students at both the Chester and Midlothian campus. They help students with all stages of writing for any assignment.
Confused about MLA and APA? The Online Writing Lab (OWL) at Purdue University has a very helpful site that offers assistance with formatting and citations.
What's an Argumentative Essay?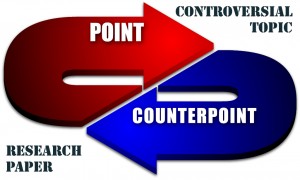 Image from: Google images
An effective argumentative essay or speech is not merely stating your opinions. You must back up your opinions/positions with evidence, facts and sound reasoning. This requires research, research and more research.
A good topic for an argument essay is one that has two (or more) conflicting points of view or very different conclusions. You will need to not only present your side but also arguments for the opposing side as well. Then "argue" why yours is the correct position to take.
Ha Hoang
Contact Info
Library
John Tyler Community College
13101 Jefferson Davis Highway
Chester, VA 23831-5316
804-706-5198
Send Email